The Rio Grande Theatre is proud to introduce the 2017-18 Classic Film Series presented by Visit Las Cruces.  Beginning July 8, the theater will dedicate the second Saturday of every month to classic cinema. Tickets can be purchased on a per show basis or for the entire season. The season runs September thru September.
Titles are subject to change
Tickets can be purchased at the door or online (coming soon, check back for details).
Per Film: $8 per person (12 films)
Season Pass: $79 per person (12 films)
About the Rio Grande Theatre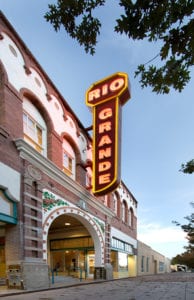 The Rio Grande Theatre, originally built in 1926, is a restored performing arts center in the heart of Downtown Las Cruces. It is the only operating 2-story adobe theater in the country and is listed on the National Register of Historic Places. The Theatre is owned by the City of Las Cruces and soon to be managed and operated by Visit Las Cruces.
The theater will now feature a wide selection of entertainment from local, regional and national recording artists and performing arts, to a classic film series and Saturday children's matinee program. The theater is now serving concessions and refreshments.
The Rio Grande Theatre is managed by Visit Las Cruces. For questions about events, rentals or anything else, contact us at 575-541-2290 or cvb@lascrucescvb.org